Evernote
is a fully featured note taking application that enables you to:
- take text and audio notes
- organise your notes in notebooks, notebook stacks and by tagging
- Add images, videos and files to your notes
- all your notes are fully searchable, including handwriting within images
- email notes to your Evernote account
- share notes and notebooks with others
Evernote can be synchronised across all your devices. I currently use Evernote on my work PC, Macbook Air, iPad and iPhone. It can also be accessed through a web app, so whereever there is access to the internet you can access you notes on Evernote.
I've used Evernote for several years. In a previous job where I was a school support consultant working with schools to raise literacy and numeracy results, I used Evernote to manage my bank of professional readings. As schools began a new investigation, I could search Evernote for their focus area e.g. place value in numeracy, and email multiple notes from within the app. More recently I've committed to going paperless and have been using Evernote as my notebook, journal and filing cabinet. I tend to use mostly my iPad for entering information and my laptop for tidying up and organising, as the different versions of Evernote have different features.
Evernote Trunk
highlights many applications that support Evernote and from that large list here are my twelve picks for optimising the experience of adding information to Evernote from an iPad.
Quick Notes
FastEver XL
+
Text Expander
$1.99 + $5.49
FastEver XL is my preferred entry point for writing text notes for Evernote. I like the streamlined interface and that a new note is opened for me as soon as I select the app.
However where FastEver XL really shines is in it's integration with
Text Expander. Text expander allows you to create customised keyboard shortcuts for text you use often. This can be as simple as
someones name e.g LC. changes to Louise Cimetta or a whole paragraph of text e.g. bio. changes to my biography.
Handwriting to text notes
Notes Mobile
$8.49
Notes Mobile allows you to hand-write your notes and then export them as text to Evernote. I really like the inbuilt wrist rest which allows you to lean your hand on the screen while writing.
Handwritten notes & drawings
Penultimate
$0.99
With Penuitimate you can create diagrams, add images and handwritten text and open the page in Evernote as an image. As long as your handwriting is reasonably legible words will be able to be located by the Evernote search engine.
Annotating Images
Skitch
$FREE
Skitch allows you to annotate images (photos, maps, web clippings...) which will then be automatically be uploaded to Evernote. Add arrows, text, shapes, freehand drawings, crop your image and use the pixelator to blur parts of an image. I particularly like the pixelator for blurring out the school crests of student uniforms before uploading their images to a class blog.
Saving from iOS Safari (& more)
Bookmarklets
$FREE
This isn't an app, rather it is a blogpost that made my life so much easier! Chris Bray provides instructions on how to edit a bookmark to make bookmarklets in iOS Safari. This means you can save a webpage directly to Evernote - plus a number of other services.
The image below shows the bookmarklets I created using this information. This has been a major time-saver in my work!
Copying text and images from apps
Everclip
$2.99
with Everclip, you can use the 'copy' function of the iPad to save text and images to Evernote. Open up the Everclip application, then return to the app you want to save information from and press & hold to select the text or image. Tap on 'copy' and the selection will be saved to Everclip. From Everclip you can then send the information to Evernote.
Saving documents signed with e-ink
Docusign Ink
$FREE
Complete forms and sign them using Docusign Ink. Forms can be accessed from Evernote, Dropbox, Google Drive, Box, camera, emails and other apps. Once completed and signed they can then be emailed to the receipient and a copy set to your Evernote email address.
Scanning to Evernote on the go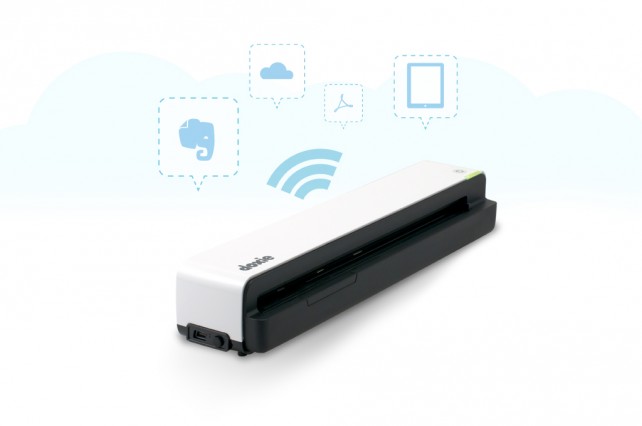 Doxie Go + Eye-fi Card
$229US
I go to a lot of meetings and am often given paper copies of information. Despite my best intentions to scan these items when I get back to my office it often doesn't happen as the photocopier is busy or I have moved on to the next important task.
I've never been impressed with the quality of scanner apps that use the iPad camera
so a portable scanner that weighs 400g is a great addition to my toolset. Doxie Go portable scanner allows me to quickly scan information (it works without being attached to a digital device) and send it straight to Evernote next time I plug in the scanner to my computer.
Add an Eye-fi card to the Doxie Go and you can send your scans to Evernote instantly or to your iPad using the Eye-fi app. I prefer to use the Eye-fi app, annotating the items I have scanned and then sending them to Evernote.
Save information to read later
Pocket
$FREE
Using the bookmarklet instructions above, I use Pocket to save blogs and web pages I don't have the time to read for later viewing. Much of the information I read later is deleted once I have viewed it, the remainder are posts and webpages I want to keep a copy of for later use. Pocket allows me to save these articles straight to Evernote.
Compressing videos
Video Compressor
$FREE
Video compressor compresses videos before you upload them to Evernote. You have a limited amount of upload space you can utilise each month on Evernote and this can quickly be filled up with space hungry videos.
Video compresssor compacts your videos to a more manageable size that is still suitable for viewing on mobile devices. Great for keeping records of student progress in an
Evernote portfolio
setup.
Scanning & tracking receipts
Piikki
$1.99
I travel a lot for work and need to collect receipts along the way. Piikki is designed to make this task easier. Scan your receipt, add a title & any other information needed and then save it to Evernote.
Once I have had the receipt reimbursed I delete it from my Receipts folder in Evernote.
Scan, highlight and cite hard copy books and documents
eHighlighter
$FREE
eHighlighter is the researchers friend as it assists in recording the information you find when exploring hard copy texts. This is very useful when collecting information for an assignment or paper.
Begin by scanning the book's barcode to add citation details to eHighlighter. Then scan the page containing the quote, note the page number and use the highlighter to identify the snippet of text you wish to quote.
Continue working through the text and scanning quotes of interest. When you have completed reading the text you can send all of the quotes to Evernote in one note.
These are twelve tools that support the use of Evernote. What tools do you use?